After taking a leisurely return route through the Smokey Mountains I made it home on Sunday night around 7PM. ?Two days after completing?The Ride.
Home looked pretty good.
The neighborhood wasn't quite this colorful when I left:
I accurately predicted how my critters would greet me:
Dipshit, the four year old black Chihuahua, was enthusiastic and excited to see me. ?But: ?he's enthusiastic and excited to see?anyone?who comes in the house.
Dexter, the eighteen year old white Chihuahua, was "Meh. ?Who are you again?" ?It's doubtful he remembers who I am. ?It's an 18 year old dog. ?He does good to remember who?he?is. ?I'm trying to not take it personally.
---
Friday I was a "superhero." ?I'd just crossed an entire continent on a bicycle. ?Today . . .
. . . I was a mild-mannered reporter for a great metropolitan newspaper doing his grocery shopping and filling up his gas tank.
---
Some stats:
It was 2657.58 miles from where I began in Los Angeles to the Atlantic Ocean.
The Ride took exactly seven weeks to the very day I left Los Angeles, California. (Friday 9/4/15 to Friday 10/23/15).
45 days of actual riding. Five "days off" in that 50 day period. ?(I rode the bike on all five days, but didn't count the mileage.)
I averaged 59.06 miles a day.
Shortest distance for a day's ride was 28.80 miles from Albuquerque, NM to Moriarty, NM.
Longest was 97.49 miles from Holbrook, AZ to Seligman, AZ.
Slowest average speed for a day was 7.10 MPH for the 41.53 miles from Laughlin, NV to Kingman, NV.
Fastest average speed for a day was 14.1 MPH for the 89.37 miles from Amarillo, TX to Memphis, TX.
Longest time spent riding in a single day was 10:32:07 for the 97.49 miles from Holbrook to Seligman.
Shortest time spent riding was 2:52:19 from Mt. Pleasant, TX to Hughes Springs, TX.
I added 2201 pictures to this website over the course of?The Ride. ?(I didn't use them all, but I uploaded every one of 'em.)
---
The place I would consider "retiring" to? ?Ruston, LA.
Not just because they had great dental care! ?It seemed to be a nice, quiet,?friendly?town. ?Well kept houses and roads. ?Did I mention everyone there was?friendly? ?(And ohhhhh, the Southern drawls and accents were music to my ears.)
I was a big fan of Columbus, GA for the same reasons.
Starting in Texas, and going through OK, LA, AR, MS, and AL (curiously not GA) I found that it was sacrilegious for a bicyclist to get in front of a pickup truck driver. ?If I was pedaling along a road, was able to get in front of a pickup who was turning right (to go the same direction), it was really the same thing as telling those good old pickup truck boys this is the way they secretly like to dress.
They would burn a tank of fuel flooring the accelerator to get ahead of me before one of their buddies spotted 'em being behind a?bicycle.
---
The Schwalbe tires I bought in Albuquerque for $175 were the best purchase I made on the entire trip. ?Coupled with nearly indestructible tubes like the three spares I bought:
?. . . I didn't suffer another flat after having them installed. ?I went 1803.76 miles to the end of?The Ride?with those bad boys. ?(And they're still going strong!)
My original tires would been destroyed on some of the surfaces I had to ride on.
The Schwalbe tires were?so?"bullet-proof" (if you will) that I only needed to add air every four or five days to them. ?It got to the point I quit checking every morning. ?I started checking the tire pressure every other day. ?Absolutely amazing tires. ?I'll never again buy any other brand.
---
Next time you talk to a bicyclist who insists on the "necessity" of "clipless" pedals and the appropriate footware to clip in, tell 'em you know a guy who biked over 2600 miles, climbed over 33,000 feet in the journey, and did it all in these:
Thom McAn Men's Daniel Brown Sandal. ? About $25 at Kmart / Sears. ?(In fact, I think I paid $25 for one pair and got another free or half price or something.)
(I carried two pair of those, but the ones in the picture are the ones I wore for the duration.)
An added bonus: ?wearing sandals — and nothing?but?sandals — for 7 weeks gave me "tiger stripes." ?I'm going to hate to see these fade!
---
For years I've been swearing by Bag Balm. ?Any time I knew I was headed out for 60+ miles, I'd put this stuff all over my buns.
Yet, after Baker, California, I never used a bit of it. ?Nor did I use any sun screen from that point, either.
I still think the stuff is great and it will help keep chafing down. ?I must have finally developed enough of a hard ass to not need it.
---
I had every intention on bringing one of my Chromebooks on the trip with me. ?They are reliable, they boot fast, and when you're doing everything on the 'Net, they're damned hard to beat.
At the last minute I swapped it out for an HP Windows 10 laptop. ?Gosh, remember that terrific?day I poured 32 ounces of water on it?
I was able to get it booted. ?The screen to this day still has little "stars" all over it. ?Pixels that were shorted out from the water, I assume. ?I lost the sound card and one USB port completely. ?Other than that, the little thing allowed me to keep churning out blog posts.
Most importantly it allowed me to keep my business rolling along. ?I was originally going to just "dial in" to my main home computer. ?Two Ohio thunderstorms in five weeks with a complete power loss at home in each killed that idea. ? Having that Windows laptop allowed me to keep producing payroll while I was on the road. ?I could not have done that with the Chromebook.
I have a marvelous "background switcher" called John's Background Switcher. ?It's freeware, no ads, and it does a tremendous job of swapping out wallpaper. ?I have literally thousands of pictures it accesses. ?Each picture stays on the screen for 30 seconds, then it posts another at random.
On the last morning of the ride, this is the picture it posted . . . which is kind of amazing I caught it since it changes every 30 seconds:
Ten seconds after I saw it, it started displaying more of what I normally have on the screen:
---
This is all the stuff I toted for all those miles:
Look what made it safely home with me:
---
Many folks have asked me, "What's next?"
Well, there are still nine states I haven't ridden through. ?ME, VT, NH, MA, RI, CT, NJ, DE, and NC.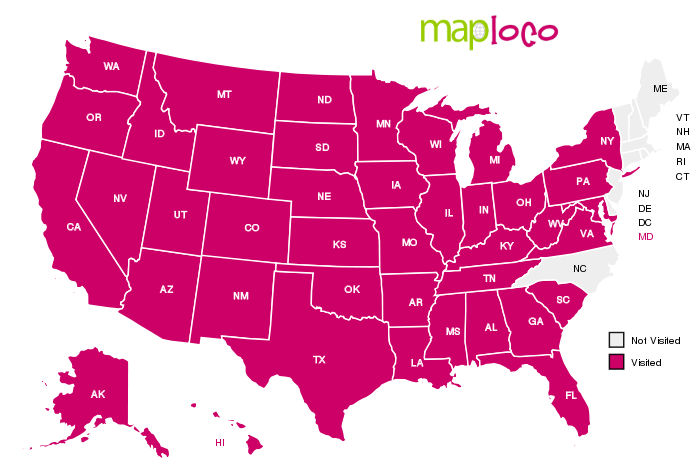 I'll probably get to them next year. ?For 2015, November's right around the corner. ?It's going to be getting a lot cooler. ?While I rode through MO, KS, CO, UT, ID, OR, WA, MT, WY, SD, and NE?
in February
of this year, I'd prefer warmer weather, thank you very much.
I'd still like to bike down the PCH (Pacific Coast Highway) at some point.
There's a place I drove through on the way back to Ohio called?Tail of the Dragon. ?It's a "killing field" for motorcyclists.
It's 11 miles with 318 hairpin turns. ?I might just be insane enough to try that on a bicycle.
All of that's for another time. ?This year was my year to go do a "trip of a lifetime." ?Next year it's my business partner's turn. ?I'll get to stay home and mind the store while she has the time of her life.
---
Many folks have asked how do I feel that I've done such an "amazing feat." ?I guess I can't bring myself to see it that way. ?I've been saying for this entire trip if?I can do this?anyone can pull this off. ?I truly believe that.
While I love to hop on my bicycle and ride here and there, in my perspective, bicycling is a frivolous activity. ?I do it to get away, to reset my mind, to listen to music, to escape for a few hours.
In riding across the country, all I did was escape the "everyday normal" for two months. ?I didn't cure cancer. ?I'm not an Olympic level athlete. ?I didn't benefit humanity (except those hotel and restaurant owners who made a buck or two off of me.) ??All I did was take a two month sabbatical and treat myself to my hobby.
When I talk about this, I keep using the word "blessed" because that seems to fit. ?I was blessed with the right combination of health, desire, timing, and financial wherewithal to pull this off. ?I just can't call it a "feat." ?It's . . . "something pretty cool I did in 2015." ?I have to leave it at that.
---
Might as well go full narcissist. ?From those 2000+ pictures I uploaded, here are my favorite ones of . . . well, me:
---
I can't say I won't add anything else to this blog in the future, but as I sit here, I'm thinking I've said all that needs to be said. ?I appreciate everyone who followed me here, on Twitter, and on the Joke A Day Forums.? I thoroughly enjoyed myself. ?I hope?you?enjoyed?the journey as much.